Clare Junior A Football Championship Semi Final 2020
Ballyvaughan-Fanore 2:14 St Senan's Kilkee 1:11
Sunday 27th September @ 15:00 in Miltown Malbay .
Match Official:- Barry Keating (Lissycasey)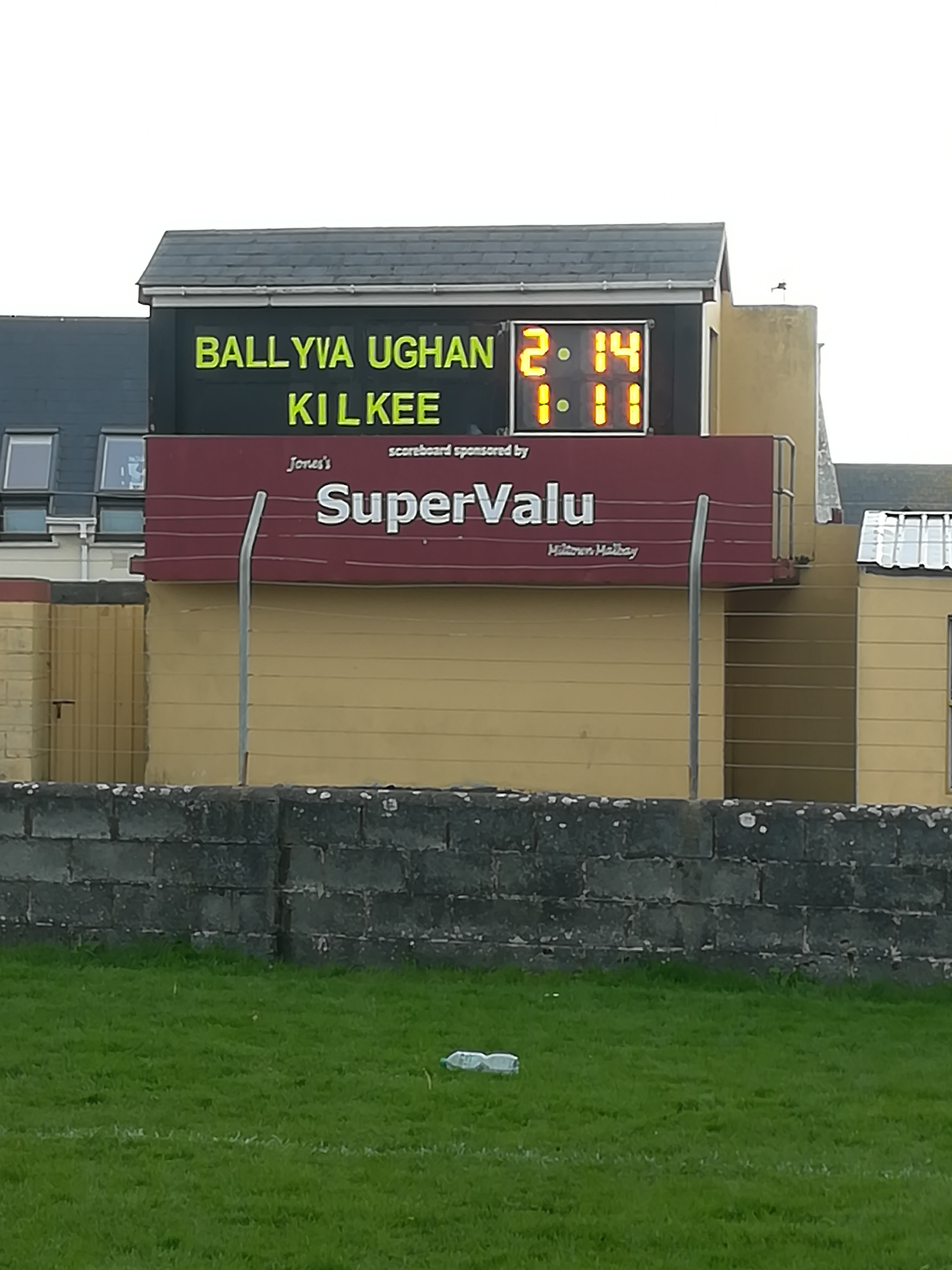 Phelim Kyne nets two goals and club secretary Donnchadh Mahon comes off the bench and scores two points from play. These are two of many talking points in this lively Junior A Football championship semi-final played in near perfect conditions on a September day in Hennessey Memorial Park Miltown Malbay. St Senan's Kilkee got off to the better start Ballyvaughan-Fanore finished with a flourish. While it took a long time for Ballyvaughan-Fanore to find their feet, once they hit their stride they gradually got on top and pulled clear to win this game.
Ballyvaughan-Fanore trailed 1:04 to 0:02 at the first water break, the St Senan's goal was scored from a penalty and Ballyvaughan-Fanore's two points were scored by Jonah Culligan both from free's, Ballyvaughan-Fanore missed a couple of goal chances here and other wise being sluggish starting off this game could have been out of reach at this stage.
Mark Walsh was introduce to the game which then saw Adrian Nilan kick a score from play to keep etching away and bringing down the St Senan's tally achieved early on, almost immediately Damien McNamara denied St Senan's a certain goal as he saved from close range, but the referee called back the play for a previous foul and this free was converted to leave the score at 1:05 to 0:03.
The first of Phelim Kyne's goals then arrived as he intercepted a loose pass from a kick out around the 45'yard line and headed goal bound to bury the ball in the back of the net, 1:05 to 1:03, the next Ballyvaughan-Fanore score was due to James Howard being fouled and Jonah Culligan converted to leave the minimum between the sides. Only a one-point game now from all the early pressure applied by St Senan's had evaporated but they did briefly get control of the ball and stretch the lead back out to two. Lorcan Mahon won a close in free and Jonah Culligan scored. Then some crossfield play resulted in Mark Walsh winning a free and Jonah Culligan also duely converted which tied the scores on 1:06 all at half time.
On the resumption of the second half Ballyvaughan-Fanore had a wide from James Howard, Donnchadh Mahon was introduced in to the attack for Adrian Nilan. St Senan's poked their noses briefly in front due to scoring a free and the next Ballyvaughan-Fanore score arrived courtesy of a kick out that was called back for not being the correct distance away from the receiver of the ball, then referee Barry Keating threw up the ball and Jamie Hynes pointed after he won the breaking ball, level now again at 1:07 all. Ian Queally popped up close to goal with an opportunity of a score but he kicked wide, referee duely called this back also for an earlier foul and Jonah Culligan scored again to put Ballyvaughan-Fanore in to the lead for the first time in the match at 1:08 to 1:07.
Jamie Hynes delivered a long ball to John Martyn who made use of the mark and split the posts with the resultant kick. Nervous moments again in the Ballyvaughan-Fanore goal mouth were quashed when Damien McNamara palmed over a shot that could have ended up in the back of the net, score now stood at 1:09 to 1:08. On the lead up to the second water break, Ballyvaughan-Fanore got two more points from Jonah Culligan one from a free and his first one was scored from play he also struck a wide from a free. Score was nicely set at 1:11 to 1:08 with the home straight in sight.
St Senan's had a free kick which dropped short James Howard cleared the lines, Cian Walsh was introduced for the injured Lorcan Mahon, now Jonah Culligan popped up to score his second point of the day from play, a four point advantage now on a score line of 1:12 to 1:08, another goal chance went astray also for St Senan's but the ball was deflected out for a 45' which it then went wide. John Martyn did win his second mark of the day, quick thinking made him kick the ball to Donnchadh Mahon who popped the ball over the bar from 30 yards, almost immediately St Senan's were causing problems again up at the other end when a ball could have ended up in the net as it was blazed over the bar to show a score of 1:13 to 1:09.
Donnchadh Mahon scored again from play to a mighty cheer from the small Ballyvaughan-Fanore support base, by now St Senan's were definately chasing goals but no more were conceeded, John McCormack was in as a sub for John Martyn, a brace of points were given away to St Senan's from close in free's. Deep in to injury time Phelim Kyne is close to goal and beats the keeper yet again and punishes scoring his second goal of the day to leave the final score 2:14 to 1:11.
The final will be in a few weeks time against Banner, they defeated Ennistymon in Corofin on a scoreline of 1:09 to 0:08.
Ballyvaughan-Fanore
Damien McNamara Adam Walsh Kieran Casey Lorcan Mahon Ian Queally Philip Queally Phelim Kyne (2:00) James Hynes (0:01) Cormac McGann James Howard (Captain) Jonah Culligan (0:09)(7f) John Mooney Hynes Adrian Nilan (0:01) John Martyn (0:01) Ronan Fahy
Subs
Mark Walsh for Ronan Fahy
Donnchadh Mahon (0:02) for Adrian Nilan
Cian Walsh for Lorcan Mahon
John McCormack for John Martyn
St Senan's Kilkee
Conan Fitzgerald Patrick Lucey Darragh Kelly Patrick Muldoon Alex Muldoon Gavin Melican Conor Deloughery (0:01) Darren Owens (0:04)(3f) Conor Murray Noel O'Shea (0:01) Gearoid Lynch (0:02) Cillian Lardner Diarmuid Keane (0:01) Dylan Russell (1:02)(1:00 Pen, 1f) Conor Murphy
Ballyvaughan-Fanore Gaa Club on Facebook
Facebook Page Please click the link on the left to launch.
Pictures from this game can be viewed here
Facebook Page Please click the link on the left to launch.